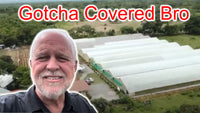 You Can Help Us Recover From Destructive Winds
Click HERE to see how a freak wind storm damaged our 1.5 acre greenhouse, and how we're working hard to restore it with emergency speed. $5 or more will help greatly. Thanks in advance.
The Full Global Food Providers Story!
Two Books For You . . .
Dr. Daves has two crucially timed books to help you understand the four facts and a wildcard that are upon the fragile global food growing and delivery systems now.  Get both books shipped to you quickly on Amazon.com.
Image with text
GLobal Food Providers is a subsidiery of Children's Feeding Network, a 501(c)3 nonprofit organization, EIN #48-0971077. Search "Children's Feeding Network" at Charity Navigator to see our 100% 4 star rating.