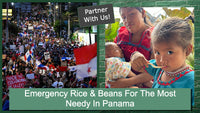 Emergency Food Supplies As Panama Descends Into Chaos!
You can make a huge impact right now as all of Panama is shut down to 24/7 protests. Roads are blocked, supply and fuel trucks are not coming. The poorest are at great risk. CLICK HERE for the story details.
The Full Global Food Providers Story!
Two Books For You . . .
Dr. Daves has two crucially timed books to help you understand the four facts and a wildcard that are upon the fragile global food growing and delivery systems now.  Get both books shipped to you quickly on Amazon.com.
Image with text
GLobal Food Providers is a subsidiery of Children's Feeding Network, a 501(c)3 nonprofit organization, EIN #48-0971077. Search "Children's Feeding Network" at Charity Navigator to see our 100% 4 star rating.